About the Houston Alumnae Chapter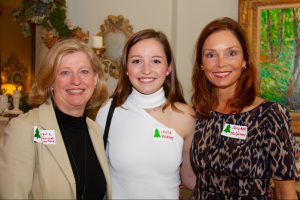 Welcome to the Houston Alumnae Chapter of Kappa Alpha Theta! Our Houston Chapter was founded in 1921 and is now the largest alumnae chapter in the nation with approximately 650 dues-paying members.
Our Houston Alumnae Chapter offers 2 groups of membership:
Both groups of membership offer a $30/year reduction in annual dues for Life Loyal members (Kappa Alpha Theta Fraternity's program to pay $299 one time for annual dues to the national fraternity).
Advantages of membership include full access to our website, a directory/yearbook that is mailed in late August with the year's events and contact information for all dues- paying members, timely emails about upcoming events, invitations to special events, and the privilege of recommending new members during recruitment. Of course, the intangible advantages of Theta friendships and being involved in our Houston community are priceless!
We are very proud of our Theta Charity Antiques Show. The Show is our annual philanthropic endeavor and is considered to be one of the top three antiques shows in the country. Since its inception in 1952, we have donated nearly $8,000,000 to worthy beneficiaries in the Houston community and to Theta Foundation scholarships.
In addition to our annual Show, we celebrate our Houston Theta actives and their mothers with a lovely Christmas Luncheon in December and remember our founders in January with our annual Founders Day event at the Junior League. The Philanthropic Reception is an inspirational highlight in March when we distribute the funds from the Show to the year's designated beneficiaries. Another favorite annual event is the Fall Feast in October, a dinner when alumnae of all ages come together to celebrate the season.
There are other meetings with interesting speakers each year, and our Young Alumnae (over 100+) have their own calendar and then join with the other active members for some events.
We have Special Interest Groups that meet separately, some weekly and some monthly. These active and faithful groups include Bible Study, Bridge, Mah Jongg, WildKats Investment Club, and Nite Kites (a group that gathers for dinner and a Christmas party).
Additionally, the values of Kappa Alpha Theta lead us to oppose and condemn racism on individual, societal, and systemic levels, and those values call us to persist in the ongoing work of personal and institutional reflection and change connected to anti-racism.
We are a welcoming group of women of all ages and varied interests who enjoy our Theta sisterhood and friendship. We hope you will join us!
Other Houston Area Alumnae Chapters